A warm welcome from the Rector
Many generations of villagers have worshipped God in this beautiful church high on the Kentish North Downs, and still today the local people look to this iconic building in times of joy and sorrow.
Our challenge in today's culture is to find the right blend of traditional and modern approaches so that the old is respected while the new is valued!

My name is the Reverend Canon Ruth Oates, and I have been in post as the parish priest since 18th April 2013. I hope you will come to explore the church when it is quiet, and that this will encourage you to come and experience how the building comes to life when we gather to worship God and fill the church with songs and hymns of praise and thanksgiving.
The church is here for you, both as a sanctuary of quiet and as a place of challenge as we work out together how best to serve the local community. Church members are involved in many voluntary activities in the area, quietly caring for those who are vulnerable, supporting young people and responding to the needs of the wider population and the world. Our church is a depot for the Gravesham Foodbank.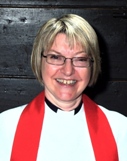 On 12th September 2013, Rev Elizabeth Robertson joined us as Associate Priest after many years in Fawkham & Hartley. This is a developmental change as Ash and Ridley churches already work closely with the churches of Fawkham, Hartley, and Longfield in a clustering arrangement.
With Ruth and Elizabeth as the priests, and with the support of the church people, we seek to make God known in the world around us and serve the community across the whole of Ash-cum-Ridley.